Located 238 kilometer north of Puerto Princesa at the tip of Palawan's northwestern coast is where you will find the small village of El Nido and the stunning beauty of it's surrounding marine reserve park.
Due to it's remote location the Bacuit Bay remained virtually unknown to the world until 1979 when a boat propeller accident at sea forced a group of divers to set anchor in the archipelago.
What they discovered was a breathtaking scenery of endless islands and islets made of thick virgin forest surrounded by fine white sand beaches, crystal clear waters and magnificently sculpted limestone cliffs. El Nido's archipelago played a key role in the decision of National Geographic Traveler magazine to rate Palawan as the best island destination of East and Southeast Asia in 2007.
So don't be put off by the 6-8 hour long bus or mini-van journey (half of on bumpy roads) from Puerto Princesa as the price to pay for a bit of discomfort is undeniably well worth the reward.
El Nido town
El Nido town is a charming and quiet little Filipino village with very simple living that thrives mainly from fishing and tourism.

Located along the beach and facing the Bacuit bay it is surrounded by the region's dramatic landscape of towering limestone cliffs covered in a blanket of green that mirror onto its emerald waters.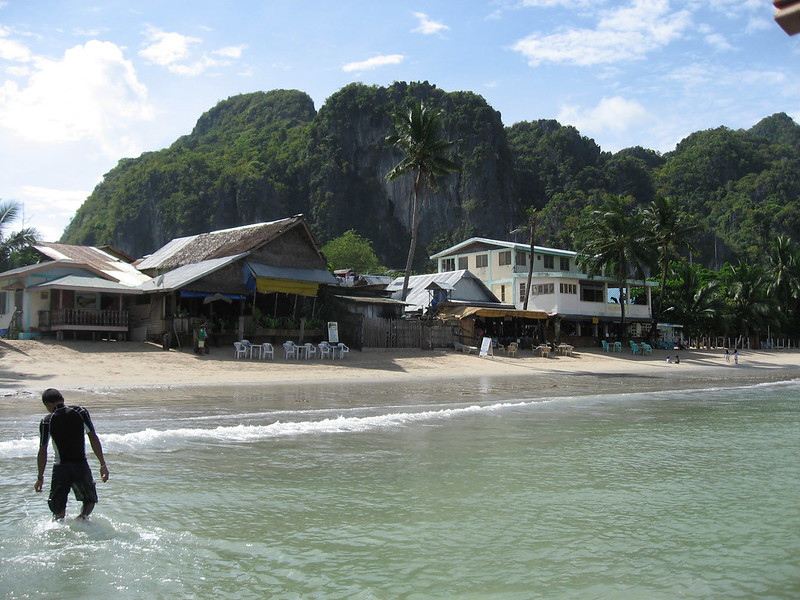 Affairs as you would imagine are very relaxed here and the whole town is made up of a few quaint streets filled with a variety of surprisingly good little restaurants serving both local delicacies and international cuisine, laid back beach bars where you can sip a cold San Miguel after a long day spent island hopping, a karaoke bar (videoke as they call it in the Philippines) where you can join the locals for a tune or two, a few grocery stores and souvenir shops.
Those looking for a bit of nightlife should head to the Balay Tubay joint as it features a live band every night playing a mix of Rock, Folk and Filipino music. A bit of dancing is also possible at El Nido's only discotheque made up of an imaginatively redecorated 50 Sq. Meters house.
Pictures of El Nido
The El Nido Marine Reserve of the Bacuit Bay
Though the town is quite pleasant in itself the real beauty of El Nido lies amidst it's Bacuit Archipeleago. The most striking features of the Marine Reserve is the scenic landscape made up of 45 magnificently sculpted limestone islands of varying shapes and sizes. Each one of them with their own unique features of beautiful lagoons, thick green forests, coves, bays, white sand beaches, caves all scattered about the sparking crystal clear seas.
Hiring a boat to take you island hopping and snorkeling for a 6 hour day tour should cost you about 1500-2200 Philippines Pesos (Those on a budget can join a group for around 500-800 PHP). I highly recommend arranging to have your tour guides include (some have it bundled it in the prices while other ask extra) a cooler for cold beverages and lunch made up of fresh fish, beef or pork that they will BBQ and serve with rice and fruits on one of the beaches of your choice.
A truly unforgettable experience to dine in the Bacuit bay. Since the bulk of the boat tours start at 8-9AM and follow one of the main four island hopping tours in a linear path a good tip is to leave an hour late to avoid any crowds.
Pictures of El Nido Island Hopping
There are three types of transportation that will to get to El Nido as you can:
Travel by Land
Air-con Shuttle Van: Take one of the air-con mini vans from

Puerto Princessa's new market bus station between 6 and 9 AM in the morning and 1 to 2PM in the afternoon. Costs are 600 pesos (±$12) per person and the trip takes 6-8 hours.

Possibility to make reservations (best for afternoon trips) via phone at: +63(0)9209815702 or +63(0)9172762875.
Local Bus: Take the local non-aircon daily bus that Leaves Puerto Princessa's new market bus station everyday at around 8 AM for El Nido and costs P350 pesos (±$7) per person. BEWARE as these buses are packed to the brim

with people (or livestock) standing inside or on top. Windows are nonexistent so expect to be covered in a dirt by the time of your arrival. Trip Takes from 8 to 12 hours depending on weather and how many flat tires to change.

Eulen Joy Bus phone: +63(0)9197162210 or Sweety Bus phone: +63(0)919711922.
Private Van for Hire: These can be arranged in Puerto Princesa on any given day but the prices are steep around P10,000

(±$200) and can fit around 8 people. Not too bad if you are travelling in a group.

Trip Takes 5-8 hours depending on how many stops you want to make.
Travel by Boat
Sabang – Port Barton – El Nido Banca route: These boats on run regularly during high season for around P1,500.00 to P2000/person

(±$30-40)

. Trip takes around 7 hours.
Manila to El Nido: San Nicholas Shipping Lines (phone: +63(0)9182161764) and Atienza Shipping Lines (phone: +63(0)9274066036) make trips 2-3 times a week for around P1,200.00 (±$25). Trip takes ±30 hours

Travel by Air
Manila- Elnido: daily flighs with ITI. One way is around is P8,000

(±$165)

Manila – Puerto Princesa: Daily flights with Cebu Pacific or Air Philippines. One way from P1000-4000

(±$15-50)