Strategically located only half a day by bus from Bangkok, the little 6 by3 KM dagger shaped island of Ko Samet is known as the perfect Week-end escape route for Bangkokians, expats and tourists alike looking to chill out with friends and family for a few days. Pattaya? Definitely out of the question if you want some relaxation… Ko Chang? Too much distance to travel on such a short trip, so Ko Samet is just right. The island is mostly famous for its coastline made up of fourteen beautiful powdery white sandy beaches lapped by crystal clear waters. Not to forget the perfect all year long weather since statistically wise, it offers more days of sunshine than any other island of the Kingdom of Thailand.
Ko Samet's east coast is by far the most popular among visitors since it has the vast majority of the island's beaches, all the nightlife and most of the bars, restaurants and accommodations. The west coast features only a minuscule tucked away beach surrounded by a few expensive resorts. The north is the calmest of all with just a few guesthouses built along the rocky shoreline that you can notice as you approach the island by ferry.
Be aware that as things get packed and while the nightlife is without any doubt fun on weekends and public holidays the rates can accordingly skyrocket by 60%. If you are lucky you might still be able to find some basics bungalows in high season at 500-600 baht but since this is on a 1st arrived, 1st served basis those are the ones who tend to go the fastest.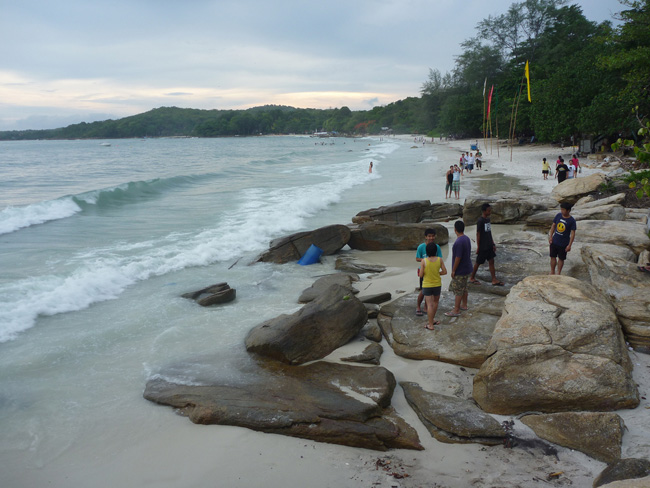 While Ko Samet probably can't compare with places in the south such as Ko Phi Phi in pure beauty, I found the overall experience to be more pleasant and authentic. The balance was just perfect and I didn't feel like in some tourist ghetto surrounded by 85%+ of other Caucasians. I know some people have absolutely no problem with this but in my case you definitely need to be around Thais to feel like being on vacation in Thailand and not like some beach in Spain back in the Europe. Since Ko Samet is part of the Khao Laem Ya-Mu Ko Samet National Park you will have to fork out an entry fee of 200 baht per person for foreigners and 40 baht for Thais. One wonders where the money really is invested since like so many other Parks in the rest of Thailand the typical ban on buildings has been brushed off and you'll find over 30 resorts operating here. Anyhow the good news is the Royal Forest Department actually very recently cut the price of entry in half from the outrageous 400 baht they used to charge. Who knows maybe they had a bad conscience…
More Pictures of Koh Samet