Cebu city also nicknamed 'Queen of the South' is the second largest city of the Philippines.
It has few attractions compared to it's big sister Manila and most of the ones it has have to do with Ferdinand Magellan's arrival here and consequently the birth of Catholicism in the Philippines, the Santo Nino Cathedral, the Carbon market (the biggest and liveliest) & Colon Street which is the oldest street of the country and more or less the town's center.

---
It's also of course more laid back and calmer but that wasn't for me a bad thing for me as I could feel the previous week of drinking was slowly taking its toll and it was time for a break.
I arrived at the Mactan airport of Cebu after dark with a few suggestions of places to stay when in Cebu city. The sight of a tourism & accommodations desk while waiting for my luggage changed my initial plan of just taking a cab to one of those hotels. This turned out to be a good decision since both the Northwinds hotel and the Business park hotel I was suggested were fully booked. I was surprised of this as we're still in the monsoon (or wet) season which is the lowest for tourism.
I eventually found with the help of the staff something suitable in the city near Fuente Osmena Circle but a bit more expensive that I had expected so a good advice book in advance.
---
Executive room I had to move in on the last night (everything else full) in Hotel Asia (click to book) for cost the of more or less €40
---
Schoolgirls waiting for public transportation to go home on Osmena Boul.
---
Osmena Boulevard street scene
---
Me in front of Santo Nino Cathedral
---
Vanessa who I met on day one in Cebu here touring me around her city
---
This is the spot where Ferdinand Magellan planted his cross in 1521 . Historic attraction as this is the only Catholic country of Asia.
---
Candle lighting for prayers next to Santo Nino
---
Small streets around carbon market
---
Cebu is where one can find the most colorful jeepneys of all the Philippines.
---
inside view from a jeepney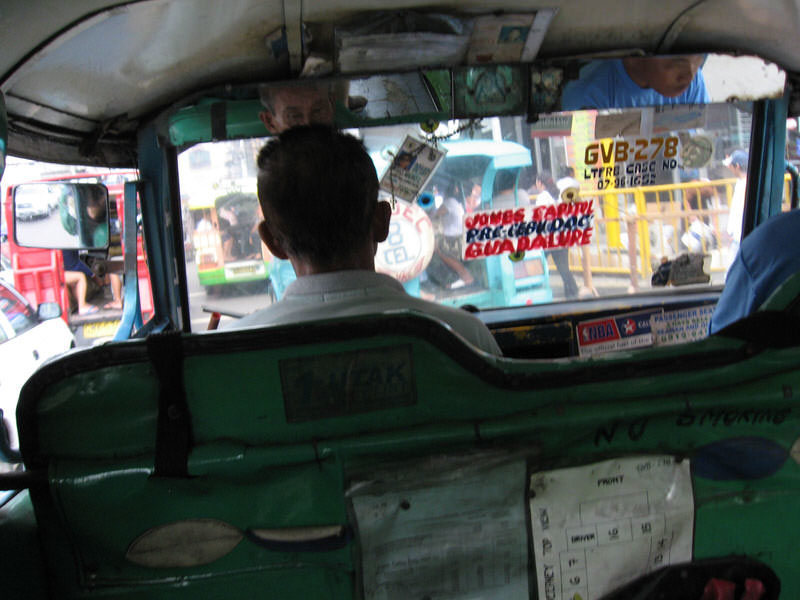 ---
looking outside
---
Larsian: The biggest local eatery lined up with an impressive amount of number of barbecue stands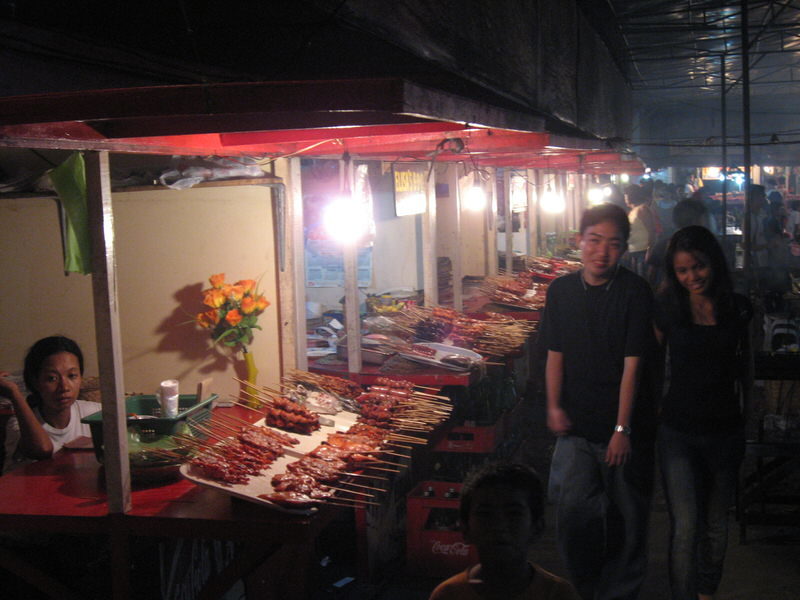 ---
Having a seat enjoying some of that great fresh BBQ!
Busy day and night it offers pretty much every possible choice of BBQ meat: Chicken, Pork, Fish, Squid, etc..
View of part of Cebu from 'Top hills' spot at night
Tired but happy having a late meal. Tomorrow finally starts the trip to Bohol…