Malapascua with its small proportions of 2½ KM long by 1KM wide is a tiny but beautiful tropical island lost 8KM into the Visayan sea just off Cebu's port of Maya. Often compared to what Boracay looked like 20 years ago the major advantage of Malapascua over Boracay is while it's every bit as beautiful it hasn't been overrun by development and tourists yet. More laid back and calm It's a nice place to relax and get away from the hustle and bustle of life where you won't find here any of those western style big hotels, trendy restaurants or nightclubs. What Malapascua island offers are a few beach-style bars with a crowd mostly made out of divers on Bounty beach.
The people come here for diving, enjoying the beach and nature glad to take life without the frills, away from clubs and all night partying. Don't expect to see any jeepneys, much paved roads at all, tricycles or televisions. Just friendly locals living at their pace. Sitting and talking with each other as the children play on the beach. Most are fishermen or live from tourism by renting bancas for island hopping, snorkeling or diving. A fairly new diving destination since the nineties Malapascua gained popularity for being one of the few spots in the world where divers can be just about certain to sight Thresher Sharks, Manta Rays and White Tip Reef Sharks.
My stay on Malapascua island only lasted two days but were memorable. On the last day I've taken about five hours to roam around and do the complete tour of the island on foot at my own pace which was well worth the long walk. It is where you will find the prettiest beaches (around the village of Langob and Guimbitayan) and get a taste of the real local Filipino native lifestyle. Due to the lack of ressources online showing pictures of the island in its entirety I shared pictures of my little tour where some commentaries can be read when images are viewed in full screen.
Map of the Island of Malapascua, Province of Cebu, Philippines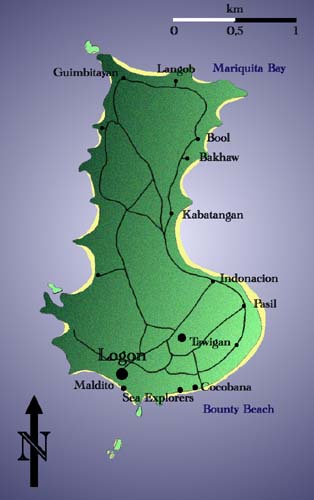 The banca ride from Maya to Malapascua
The crossing from the port of Maya on the tip of Cebu to Malapascua (under 50 pesos) takes 30 to 40 minutes by banca. Be sure to plan in advance and arrive not too late because it gets hard to find a boat past 5PM. Keep in mind that the ride from Cebu City to Maya will take ± 3½ to 4 hours by bus (under 100 pesos), ± 2-3 hours by Van-Hire (under 150 pesos) or ± 2½ to 3 hours or by taking taxi depending on your bargaining skills and demand can range anywhere from 1000 to 2500 pesos.
Various Photos from Bounty Beach
The bulk of the accommodations and tourism takes place on and around Bounty beach. If you continue walking on the beach to the north a while you'll go cross the two villages of Pansil and Indonacion. If you want to get away from the dive talk and tourists there are many resorts all around the island that will give you much more privacy in a more secluded area.
Photos going into Kabantangan
Leaving the end of Bounty beach to go inland following what would become a narrow path with ample vegetation leading me north of the island to the more remote village of Kabatangan.
Next stop Bakhaw

After Kabantangan just a few hundred meters later after a small hill you reach the village of Bakhaw
In and around the village of Bool
Just at the next beach cove a stone's throw from Bakhaw is the next village of Bool
Bantigue Cove Beach Resort and Dive Shop
Just after Bool is probably the best resort to be located beach-wise if you are staying in Malapascua. A maximum of 10 couples can stay at the location assuring plenty of privacy with the best view.
plenty of privacy with the best vie
Langob
Calm and and blue sea in perfect harmony with the blindingly white sands of this long stretch of sand. The opposite end of the island is definitely my favorite spot where no tourists are in sight.
Guimbitayan
At the other side of the strip of sand is where Guimbitayan lies where the beach is as pleasant
Guimbitayan
The walk up to the lighthouse tower which is Malapascua's highest point on the Island
Walk back
Road from the lighthouse tower back to Malapascua's biggest city Logon in the South
Walk back

Finally arriving in Logon, biggest city of Malapascua which is a few minutes from Bounty Beach
---
My personal favorite place to stay on the Island:
Ocean Vida Resort (Click for online booking)